**Big Brothers Big Sisters takes the health and safety of our supporters very seriously,
because of the ongoing Covid-19 pandemic we have made the decision to have Bowl for Kids Sake 100% online.**
Thank you so much to EVERYONE who has supported this year's Bowl for Kids Sake!
A little update on what's to come for BFKS:
-The draw for the $1,000.00 Walmart Gift Card is set to happen on Monday, May 3rd.
-The draws for the Bowlers (Staycation at Pictou Lodge and the Nintendo switch lite) will happen on May 5th
-If you have any outstanding money or tickets to pass in please call the office 752-6260
-If you won a prize last week and you haven't heard from us, please give us a call 752-6260
-We currently are at a over $39,000.00 raised (WOW) -If you would like to donate to help us reach our goal of $45,000.00 you can still do so by calling the office (752-6260) visiting us in person at 323 MacGregor St. or online at www.canadahelps.org/en/charities/big-brothers-and-big-sisters-of-pictou-county/p2p/bfks2021/


Thank you for your interest in this year's Bowl for Kids Sake!
See below how you can participate and support Big Brothers Big Sisters of Pictou County!
Virtual Bowl—any time!
You have the option to participate 100% virtually with the online Bowling Challenge! Fundraise and bowl from the comfort of your home!
Access the bowling game HERE .
Play your string online and submit your screenshot to bigbrothers@bellaliant.com to qualify. You can also sell tickets on a $1,000.00 Walmart Gift card! Call 902-752-6260 to get your tickets today!
Bowl with your Bubble
We will deliver you a bowling kit to make it a team building event for your staff, family and friends! You can also sell tickets on a $1,000.00 Walmart Gift card! Call 902-752-6260 to get your tickets and to set up your time today!
"No Bowl" Bowl – any time! 
If you want to support Big Brothers Big Sisters, but don't want to bowl, you can collect pledges or sell raffle tickets!
Call 902-752-6260 to get your pledge sheet and tickets today.
You can even be entered into the incentive prize draws!
BFKS 2021 Incentive Prizes
18+ GRAND PRIZE PICTOU LODGE STAYCATION
A two Night Getaway in a Log Cottage, with Breakfast for two each morning and dinners for two
(apps, entrees, desserts) for both nights. Valued at $940.00          
17 AND UNDER GRAND PRIZE DRAW 
All fundraisers 17 and under who have won ballots will go in on a draw for a Nintendo Switch Lite.
As well as the grand prizes,  ballots will also be  included in a  number of draws for gift cards, swag and other fun prizes!
Participate in the online bowling challenge & win 1 ballot
 Sign up & enter your pledges ONLINE & win 1 ballot
Raise $150 and win a BFKS T-Shirt and  1 ballot.
Raise OVER $150—every $100 raised over $150 will win you 3 more ballots (eg— $250=4 ballots, $350=7 ballots etc…)
 Raise $1000+ & win a night's stay at a hotel + 30 ballots.
Check out this years participant booklet for full details on how to participate!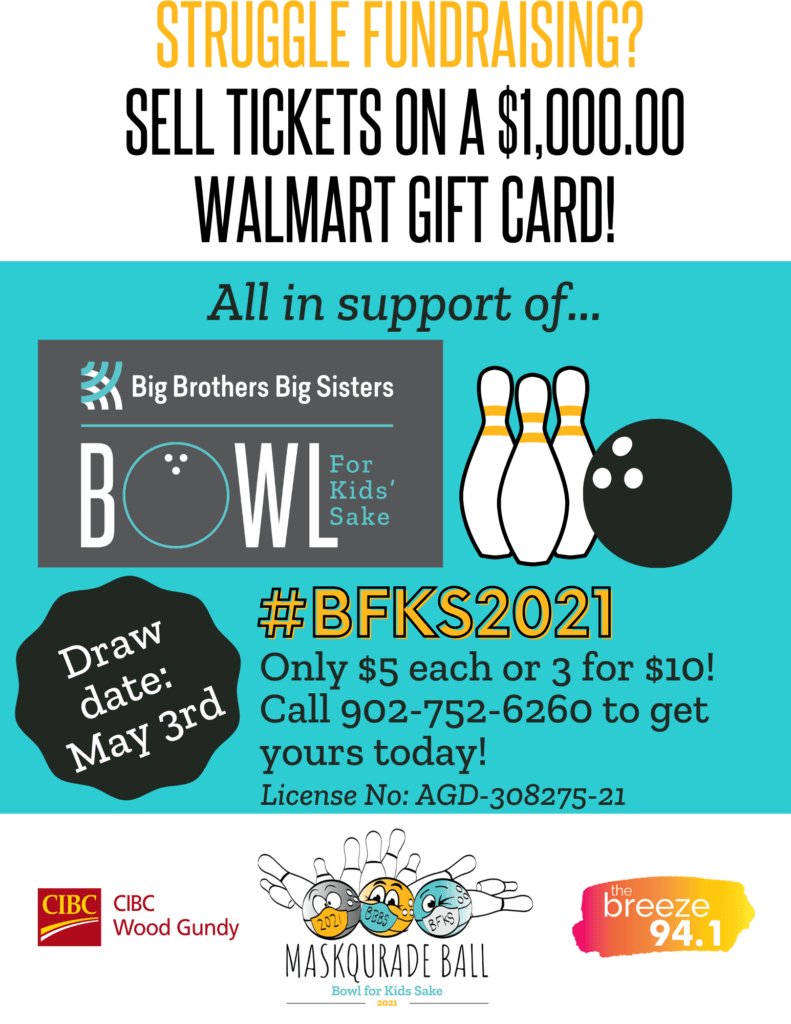 Walmart Raffle Tickets
Fill out this form to get some tickets to sell on a $1000.00 gift card! All tickets sales go towards your total for Bowl for Kids Sake!